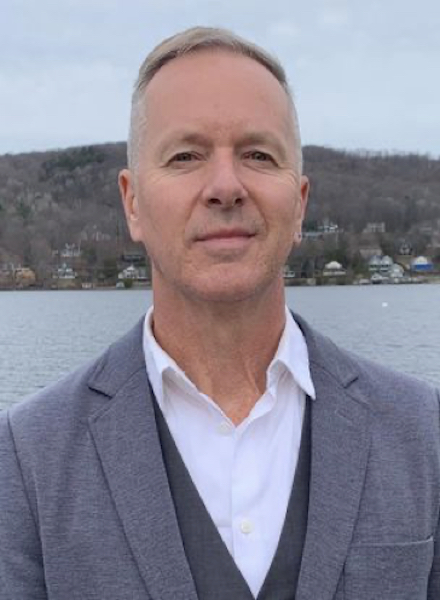 (English follows)
Marc Samson – Candidat au poste de Conseiller – Siège # 2
Je me présente Marc Samson, originaire de Sherbrooke. Dès mon jeune âge, je venais au Lac Massawippi avec mes parents, ma soeur et mon frère. Plus tard, j'y venais à vélo ave mes amis. Nous sautions dans le lac pour se rafraîchir et ensuite rentrions à la maison. J'ai donc toujours eu un grand sentiment d'appartenance à North Hatley sans toutefois savoir qu'un jour j'y habiterais.
Après avoir complété mon baccalauréat en éducation physique à l'Université de Sherbrooke, j'ai enseigné au secondaire pendant 3 ans à l'école secondaire l'Odyssée de Valcourt. En 1992, j'ai déménagé à Vancouver y suis resté pendant 16 ans. Dès la première année, j'y ai rencontré mon futur époux, Mike Bunker, originaire du Nouveau-Brunswick. Nous célébrons cette année nos 30 ans ensemble.
Entrepreneur d'ans l'âme, j'ai bâti avec succès ma propre compagnie d'entrainement personnalisé à Vancouver. Point de vue artistique, c'est en 1998 que j'ai eu la chance de rencontrer mon mentor Terrence Greer, ex-professeur à l'académie Royale des Arts de Londres, Angleterre. Au fil des années, l'art prit de plus en plus de place en tant que profession. En 2008, nous sommes revenus dans l'est du pays en demeurant à Montréal pendant 13 ans. Pendant la pandémie, nous avons décidé de louer un appartement ici à North Hatley pour finalement succomber à l'achat d'une maison et s'établir en permanence dans ce petit village Historique.
J'écris et parle le français et l'anglais à tous les jours. À North Hatley, je considère primordial d'être à l'aise avec ces deux langues afin de bien représenter et communiquer avec les citoyens.
J'ai toujours eu un grand intérêt à la pratique de plusieurs sports jusqu'à faire partie de plusieurs équipes provinciales et nationales en athlétisme. Pour moi, il est important de garder un corps en santé pour ainsi garder un esprit sain. Le sport et l'activité physique m'ont aussi amené à rencontrer beaucoup de gens et m'a donné l'opportunité de travailler en équipe afin d'en arriver à un but commun. Au fil des ans, j'ai fait partie de plusieurs conseils d'administration dans plusieurs clubs sportifs ainsi que conseils d'administration de co-propriétés à Vancouver.
Je tiens à devenir conseiller municipal car je suis convaincu que je peux m'avérer un atout pour le village de North Hatley. J'ai une excellente écoute des gens et je communique avec honnêteté. Après à peine deux ans dans ce village, je suis déjà impliqué dans le comité des évènements et vient tout juste de joindre le club de curling. Je suis convaincu que chaque citoyens de North Hatley a un rôle à jouer afin d'établir un équilibre et bon fonctionnement de notre petite société. Mon objectif est d'être à l'écoute des besoins du village et de collaborer avec le conseil municipal afin de résoudre les diverses problématiques engendrées.
Ma vision:
Du coté environnemental, je considère notre lac comme priorité. Pour moi, il est primordial de garder nos cours d'eau en santé. D'ailleurs, je n'ai pas tardé à prêter main forte à l'organisme BLEU MASSAWIPPI afin de combattre les moules zébrées et plusieurs autres espèces exotiques envahissantes. Récemment, en juin dernier, j'ai offert deux de mes toiles et j'offrirai un autre 10% un de mes recettes lors de mon prochain vernissage de novembre. Je m'approche sérieusement de mon objectif personnel qui est d'atteindre les 10 000 $ en contribution. Aussi, vous verrez bientôt les chandails à capuchons de BLEU MASSAWIPPI que j'aurai moi-même suggéré de confectionner le logo. Il sera mis en vente dans les prochains jours. Soyez à l'affût!
Il est aussi important de réduire les produits polluants qui sont déversés directement ou indirectement dans le lac.
En plus de son lac majestueux, une autre raison pour laquelle les gens tombent en amour avec notre village est bien sûr de part son architecture empruntée de la Nouvelle-Angleterre des années 1800 et début du 20ème siècle. Il faut donc préserver ce cachet et encourager les résidents, les commerçants à garder cette unique identité en les rénovant et ainsi faire peau neuve. Il est donc impératif de travailler ensemble en formant des sous-comités pour recueillir d'autres revenus et subventions afin d'embellir le coeur du village.
Il est certain que la pandémie a frappé dure surtout du coté des arts, de la culture et des sports. Cette année, nous commençons le 125ème anniversaire de North Hatley. En ayant des activités ici, nous générerons des revenus pour les commerces et amènerons un nouveau souffle au village. Encore là, nous pouvons récolter des aides gouvernementales qui pourraient renflouer nos coffres.
Étant donné que j'ai tombé en amour avec North Hatley il y a plusieurs décennies, vous pouvez être assurés que mon coeur et mon âme sont avec vous afin de rendre notre petit patelin, le meilleur endroit à vivre.
Je suis convaincu qu'ensemble nous y arriverons. Si vous avez quelconques idées, questions ou inquiétudes, vous pouvez me contacter à [email protected].
Au plaisir de vous représenter,
Marc Samson
Un commentaire additionnel:
Ce n'est pas un secret que la tenue d'une élection à un coût substantiel. J'ai récemment entendu dire qu'il y avait eu une deuxième démission au conseil. Dans le cas où cela est vrai, et que c'est une option viable, j'aimerais faire une suggestion à mon adversaire. Étant donné que l'élection pour le siège n°2 a été officiellement convoquée, si je ne me trompe pas, une deuxième élection devrait avoir lieu. En tant que contribuable, je considère qu'il est important d'explorer toutes les options pour s'assurer que la décision la plus responsable sur le plan des finances municipales est prise. Par conséquent, si cela est légalement possible, j'aimerais suggérer à mon adversaire que nous retirions simultanément nos candidatures, permettant ainsi au processus électoral actuel de tomber. Si cela devait se produire, nous pourrions soumettre à nouveau notre candidature, mais cette fois avec deux sièges ouverts, ce qui donnerait lieu à une seule élection au lieu de deux. J'attends une réponse de Mme. Haller.
_________________
Marc Samson – Candidate for Councillor – Seat # 2
My name is Marc Samson, a Sherbrooke native. From a young age, I used to come to Lake Massawippi with my parents, my sister and my brother. In later years, I would visit by bike with my friends. We would jump in the lake to cool off and then ride home. I have therefore always held a strong sense of belonging to North Hatley, without knowing that I would one day live here.
After completing my bachelor's degree in physical education at the University of Sherbrooke, I taught high school for 3 years at l'Odyssée high school in Valcourt. In 1992, I moved to Vancouver where I stayed for 16 years. In my first year there, I met my future husband Mike Bunker, originally from New Brunswick. This year we are celebrating our 30th anniversary together.
An entrepreneur at heart, I successfully built my own personal training company in Vancouver. Artistically, it was in 1998 that I had the chance to meet my mentor Terrence Greer, ex-professor at the Royal Academy of Arts in London, England. Over the years, art became more and more important as a profession. In 2008, we returned to the east coast, living in Montreal for 13 years. During the pandemic, we decided to rent an apartment here in North Hatley and finally succumbed to buying a house and settling permanently in this small historic village.
I write and speak French and English every day. In North Hatley, I consider it essential to be comfortable with both languages in order to represent and communicate with the citizens.
I have always had a great interest in many sports and have even been a member of several provincial and national track and field teams. For me, it is important to keep a healthy body to keep a healthy mind. Sport and physical activity have also allowed me to meet many people and gave me the opportunity to work as a team to achieve a common goal. Over the years, I have served on governing boards in several sports clubs and condo boards in Vancouver.
I am interested in becoming a municipal councillor because I believe I can be an asset to the village of North Hatley. I am an excellent listener and I communicate with honesty. After only two years in this village, I am already involved in the events committee and have just joined the curling club. I am convinced that every citizen of North Hatley has a role to play in making our small society run smoothly. My goal is to listen to the needs of the village and to work with the municipal council in order to solve the various problems that arise.
My vision:
On the environmental side, I consider our lake a priority. For me, it is essential to to keep our waterways healthy. Moreover, I was quick to lend a hand to Bleu Massawippi to fight zebra mussels and many other invasive exotic species. Last June, I offered two of my paintings and I will be offering another 10% of my proceeds at my next vernissage in November. I am close to approaching my personal goal of $10,000 in contribution. Also, you will soon see the BLEU MASSAWIPPI hoodies that I have personally designed. They will be on sale in the next few days. Be on the lookout!
It is also important to reduce pollutants that are discharged directly or indirectly into the lake.
In addition to its majestic lake, another reason why people fall in love with our village is of course because of its New England inspired architecture of the 1800's and early 20th century. It is therefore necessary to preserve this character and to encourage the residents and merchants to keep this unique identity by renovating them and making them new again. It is therefore imperative to work together by forming sub-committees to raise subsidies in order to embellish the heart of the village.
It is no secret that the pandemic has hit hard especially on the arts, culture and sports. This year, we begin the 125th anniversary of North Hatley. By hosting activities here, we will generate revenue for the businesses and bring new life to the village. Here again, we can collect governmental aid that could help strengthen our coffers.
As someone who fell in love with North Hatley decades ago, you can be assured that my heart and soul are with you in making our little town the best place to live.
I am convinced that together we will succeed. If you have any ideas, questions or concerns, you can contact me at [email protected].
Looking forward to representing you,
Marc Samson
An additional comment:
It is no secret that there is a substantial cost to holding an election. I have recently heard that there has been a second resignation on council. In the event that this is true, and that it is a viable option, I would like to make a suggestion to my opponent. Seeing as the election for seat #2 has been officially called, if I'm not mistaken, a second election would need to take place. Being a taxpayer, I see it important to explore any and all options to ensure the most fiscally responsible decision is made. Therefore, if legally possible, I would like to suggest to my running mate that we simultaneously withdraw our candidacies, allowing this current election process to fall. If this were to happen, we can resubmit: however this time with two open seats, resulting in only one election rather than two. I await a response from Mrs. Haller.