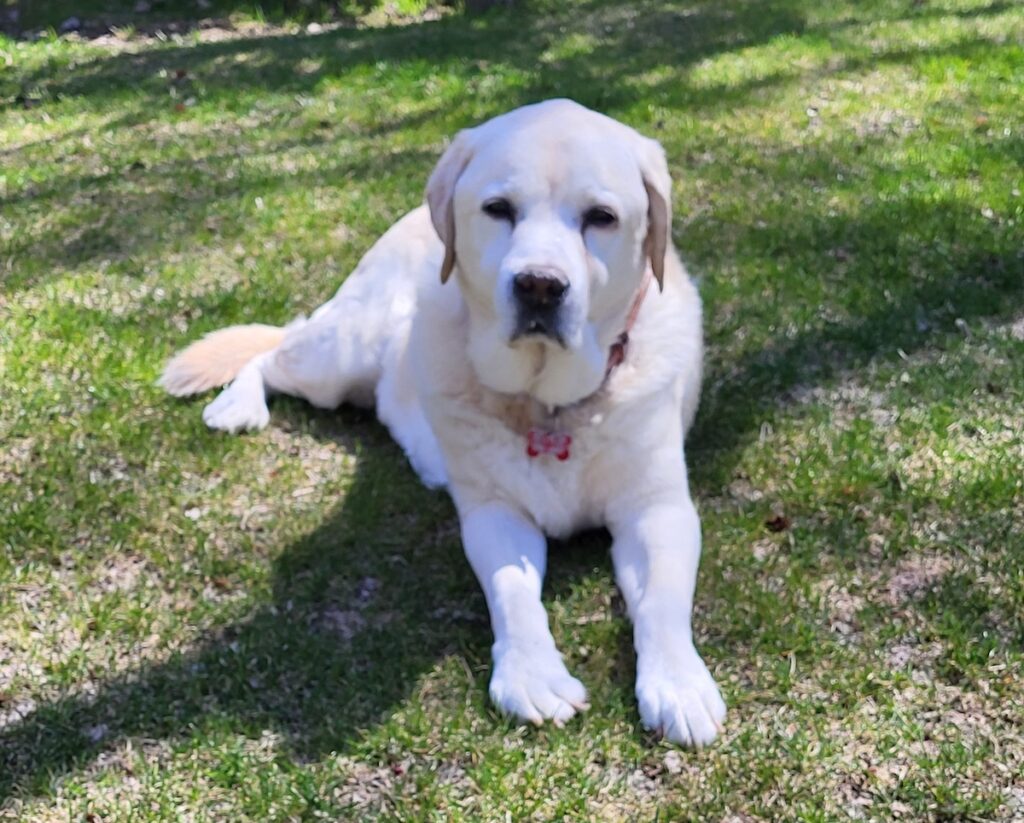 (français ci-dessous)
My name is Beebop and I am a retired MIRA dog. I worked with a boy with autism for 7 years. Now 13 years old, retirement living in North Hatley is great. Lots of dog lovers and you can bring old printer cartridges and old cell phones to the MIRA box at either the town hall or the dentist's office. These items are recycled with profits supporting the training of MIRA dogs and you will be disposing of these items in an environmentally responsible manner.
MIRA has provided service dogs for persons with reduced vision, the physically handicapped, children with autism – and they continue to develop the dogs to meet ever-changing needs. It is an organization Carole and I care about so let's keep the recycle boxes filled so MIRA can continue their work.
To read more about MIRA, click here.
Andrew J. Pelletier
________________
Je m'appelle BeeBop et je suis un chien MIRA a la retraite. J'ai travaillé avec un garçon autiste pendant 7 ans. J'ai maintenant 13 ans et je vis ma retraite a North Hatley. A vous tous amoureux de chiens vous pouvez maintenant apporter vos vielles cartouches d' imprimante ou vos cellulaires dans la boite MIRA a l' Hotel de ville ou au bureau du dentiste. Les profits seront utilisés pour la formation des chiens MIRA. Vous disposerez ainsi de vos articles d'une manière écologiquement responsable.
MIRA fourni des chiens d'assistance aux personnes malvoyantes, a des handicapés physiques et a des enfants autistes. L' association continue de former des chiens pour répondre aux besoins constants et évolutifs. C'est une organisation qui nous tient a coeur, a Carole et moi, alors continuons de remplir les boites de recyclage pour que MIRA puisse poursuivre son excellent travail.
Pour en savoir plus sur MIRA, cliquez ici.
Andrew J. Pelletier
**
FANHCA is honoured to publish community announcement for non-profit and volunteer-based organizations. Please send brief, bilingual texts, ready for publishing and small illustrations (less that 1 MB) to fanhcaowner@gmail.com
FANHCA a l'honneur de publier des annonces communautaires pour les organisations à but non lucratif et bénévoles. Veuillez envoyer des textes brefs, bilingues, prêts à être publiés et de petites illustrations (moins de 1 Mo) à fanhcaowner@gmail.com