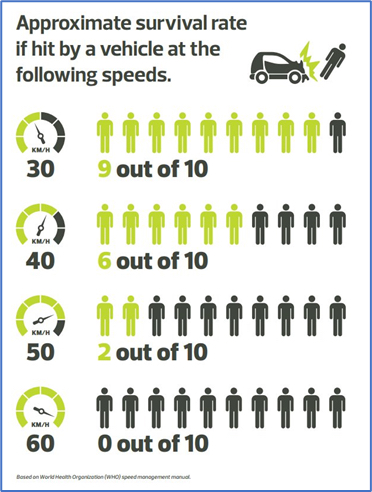 (Please scroll down for the English version)
Le long d'une route résidentielle bordée de maisons et d'une étroite piste cyclable, un couple pousse une poussette avec son enfant aîné à l'avant. Derrière eux, un camionneur est pressé et a accéléré à 60 km/heure. Le camion frôle la famille, la laissant dans son sillage poussiéreux.
L'un des parents hurle : "Où sont les policiers quand on a besoin d'eux ?" Il souhaite que ces satanés chauffards soient plus prudents et ne mettent pas tout le monde en danger. "A quelle vitesse va ce camion, de toute façon ? C'est une zone à 50 !"
Bien que 60 km/h soit 20 % au-dessus de la limite de vitesse et représente un risque important pour les piétons, les adultes seraient stupéfaits d'apprendre qu'en raison de l'insuffisance de la réglementation de la SAAQ, la Sûreté de Québec ne dispose pas des outils nécessaires pour empêcher que des personnes soient mises en danger dans les rues rurales. S'il avait été pris, le camionneur n'aurait reçu qu'une amende de 35 $ et n'aurait eu aucun retrait de points.
Les sanctions pour les excès de vitesse sur les autoroutes sont identiques. Si vous roulez à 110 km/h dans une zone de 100 sur une autoroute québécoise (soit une augmentation de 10 %), vous recevrez également une amende de 35 $ et ne perdrez aucun point. Mais, contrairement aux routes résidentielles, le risque pour les piétons et les cyclistes sur une autoroute est, bien entendu, inexistant.
Comparez cela aux collectivités européennes. Tout d'abord, en France, les municipalités ont réduit leur vitesse maximale à 30 km/heure. Il est bien connu qu'à une vitesse plus lente, un conducteur peut être beaucoup plus attentif aux dangers potentiels et a une meilleure maîtrise de son véhicule. Dans les communes limitrophes, les routes résidentielles sont limitées à 50 km/h et les amendes pour excès de vitesse sont élevées : si vous roulez à 56 km/h, l'amende est de 90 euros – et les radars photo sont très répandus. Vous faites un excès de vitesse, vous êtes enregistré et la contravention est émise, le tout automatiquement. Il n'y a pas de voiture de police cachée au bord de la route avec un agent qui pointe un capteur sur vous.
En Suède, si vous êtes pris (et les systèmes sont en place pour s'en assurer) en train de rouler à 55 km/h dans une zone 50, l'amende est l'équivalente à 250 dollars canadiens. Si vous dépassez de 20 km/h la limite de vitesse dans une zone 30, vous perdez immédiatement votre permis pour 30 jours. Si vous êtes un récidiviste, il n'y a aucune tolérance – vous perdez votre permis quelle que soit la vitesse à laquelle vous dépassez la limite.
En comparaison, a-t-on déjà vu une voiture de police surveiller la vitesse sur Capelton et Magog ? Il semble que la SQ ne patrouille pas notre route officielle pour camions qui pourtant traverse notre village. Aussi le Ministère des Transports a déjà forcé le village à enlever un indicateur de vitesse sur un tronçon qui est notoire pour les excès de vitesse.
Depuis de nombreuses années, les résidents de North Hatley qui vivent sur la route 108 (chemin Magog et chemin Capelton) font pression pour que les limites de vitesse soient réduites et surveillées. Des pétitions ont circulé et ont été soumises, mais en vain. L'autre élément de préoccupation sur la route 108 est qu'il s'agit d'une route pour camions, officiellement désignée comme telle par le ministère des Transports du Québec. L'une des raisons d'être du MTQ est de fournir aux camionneurs les itinéraires les plus courts possibles d'un point è un autre même si cela signifie envoyer des camions de 53 pieds le long de pistes cyclables désignées à travers le cœur de municipalités autrement paisibles. Le MTQ insiste sur le fait que les camions sont impératifs pour le bénéfice économique des communautés du Québec, mais n'admet pas que les camions qui traversent simplement les municipalités sont, en fait, une entrave à leur paix et à leur sécurité.
L'une des questions que la FANHCA posera aux candidats aux élections dans la circonscription d'Orford portera sur cette préoccupation constante. Il nous appartiendra, en tant que citoyens, de choisir un représentant qui promet de s'occuper de ces questions. Nous pouvons contacter notre député, M. Gilles Bélanger, à gilles.Belanger.ORFO@assnat.qc.ca , et notre ministre des Transports, M. François Bonnardel, à francois.Bonnardel.GRAN@assnat.qc.ca .
– L'équipe Fanhca
____________________________
Strolling along the residential road, lined with homes and a narrow bike path, a couple is pushing a stroller with their older child biking in front. Behind them, a trucker is in a hurry and has cranked it up to 60 km/h. The truck brushes past the family, leaving them in its dusty wake.
"Where are the cops when you need them?" yells one of the parents, wishing that these darn speeders would just smarten up and not put everyone in danger. "How fast is that truck going, anyway? It's a 50 zone!"
Although 60 km/h is 20% over the speed limit and poses a large risk to pedestrians, the adults would be astounded to learn that, because SAAQ regulations are inadequate, the Sûreté de Québec hasn't the tools it needs to prevent people being endangered on rural streets. If caught, the trucker would only have been fined $35 and have no points deducted.
The penalties for speeders on highways is identical. Travel at 110 km/h in a 100 zone on a Quebec autoroute (a 10% increase) and you would also be fined $35 and lose no points. But, unlike on residential roads, the risk to pedestrians and cyclists on an autoroute is, of course, non-existent.
Compare that to European communities. First, municipalities in France have reduced their maximum speed to 30 km/h. It is well understood that, at a slower speed a driver can be much more observant of potential danger and has better control the vehicle. Bordering municipalities, residential roads have a maximum speed limit of 50 km/h and the fines for speeding are high: travel at 56 km/h and the fine is 90 euros – and photo radar units are widespread. You speed, you are recorded and the ticket is issued, all automatically. There is no cop car hidden by the side of the road with an officer aiming a sensor at you.
In Sweden, if you are caught (and the systems are in place to ensure that you are), travelling at 55 km/h in a 50 zone, the fine is the equivalent of 250 Canadian dollars. Drive 20 km/h above the speed limit in a 30 zone, you lose your license for 30 days. If you are a recidivist, there is no tolerance – you lose your license no matter what speed you drive above the limit.
By comparison, has anyone ever seen a police car monitoring speeds on Capelton and Magog roads? It seems that the SQ will not patrol our official truck route in the Village and the Ministère de transport once forced the Village to remove a speed indicator on one stretch that is notorious for speeding.
For many years North Hatley residents living on Route 108 (Magog Road and Capelton Road) have been lobbying to have speed limits both reduced and monitored. Petitions have been circulated and submitted, all to no avail. The other component for concern on Route 108 is that it is a truck route, officially designated as such by the Ministère de Transport du Québec. The MTQ has, as one of its raison d'êtres, the mandate of providing truckers with the shortest routes possible from a to b – even if that means sending 53-footers along designated cycling routes through the cores of otherwise peaceful municipalities. The MTQ insists that trucks are imperative to the economic benefit of Quebec's communities but fails to agree that trucks that simply traverse municipalities are, in fact, a hinderance to their peace and safety.
One of the questions that FANHCA will pose to electoral candidates for the riding of Orford will address this ongoing concern. It will be up to us as citizens to choose a representative who promises to deal with these issues. We can contact our MNA, M. Gilles Bélanger, at gilles.Belanger.ORFO@assnat.qc.ca , and our Minister of Transport, M. François Bonnardel, at francois.Bonnardel.GRAN@assnat.qc.ca .
– Team Fanhca