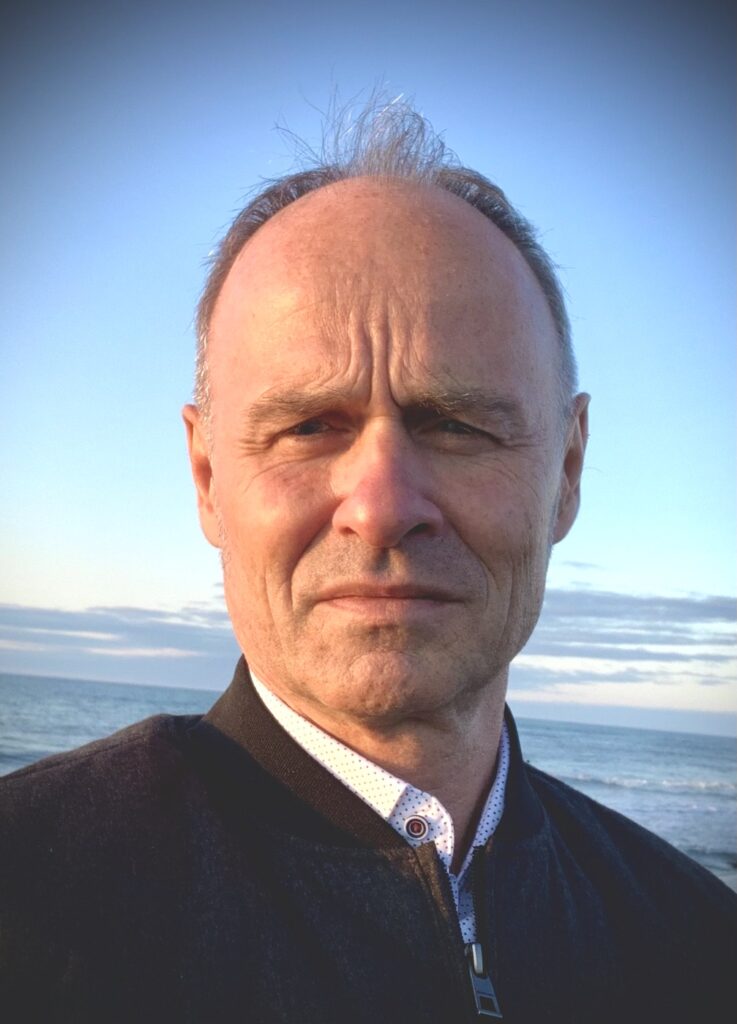 (English follows)
Michel Desrosiers – Candidat au poste de Conseiller – Siège no 1
Je me présente, je suis Michel Desrosiers. Je suis, avec ma femme Helena, résident de North Hatley depuis maintenant deux ans. Après de nombreuses années à voyager à l'international pour le travail, nous avons choisis, ma femme et moi d'y poser notre baluchon en 2019. Nous vivons au 460 Chemin de la rivière. Je connais personnellement North Hatley depuis 1998. Dès ma première visite, j'ai adoré notre charmant village.
J'ai une formation en génie civil et en activité physique. Je suis Gestionnaire de Projets et Consultant depuis plus d'une vingtaine d'années. Ce travail m'a amené à voyager un peu partout à travers le monde, à côtoyer et travailler avec de nombreuses personnes et équipes de travail, développer des habiletés en gestion et travailler à trouver des solutions constructives et inclusives a de nombreuses problématiques. 
Je suis bilingue, chose que je considère importante pour bien représenter les citoyens d'un village qui l'est également.
Je m'intéresse à la politique municipale depuis quelques années déjà. D'abord à Montréal où j'ai assisté à autant de conseils municipaux que j'ai pu, puis ici à North Hatley. À cet égard, j'ai assisté à presque toutes les réunions du conseil de North Hatley depuis notre arrivée en 2019. Mon objectif était de comprendre la dynamique du village, de m'informer, de comprendre les enjeux clés auxquels nous sommes confrontés, de réfléchir à ce qui pourrait être fait et bien sûr de poser des questions au conseil, d'échanger avec ses membres et de rencontrer certains d'entre vous.
En tant que citoyen, je considère qu'être conseiller me permettra de contribuer au maintien des acquis de notre village mais aussi de travailler à son développement futur.
Mes priorités et vues :
L'environnement : nous vivons dans un village unique, situé au bord d'un lac et d'une rivière. Protéger son environnement est essentiel. J'ai écrit 2 articles l'hiver dernier sur FANHCA pour questionner la surutilisation des sels de déglaçage et des produits abrasifs sur nos routes. Ce sont des polluants et ils réduisent également la durée de vie de nos infrastructures. Ces interventions, conjuguées à des interventions auprès du conseil municipal, ont eu comme résultat, que l'hiver prochain, la municipalité mènera un projet pilote visant à réduire l'utilisation de produits de déglaçage sur les routes planes. De plus le village a fait une demande auprès du MTQ pour implanter une Ecoroute sur la 108. Je remercie à ce sujet la municipalité. J'ai aussi participé à l'effort visant à réduire la vitesse et les camions sur Capelton (dossier à relancer) car l'environnement c'est aussi une affaire de tranquillité pour les citoyens. Je crois aussi qu'il y a d'autres actions que nous pouvons évaluer et entreprendre afin de protéger notre environnement unique. (Liens des deux articles sont ici et ici)
Le cœur du village : Nous savons tous qu'il faut faire quelque revitaliser le cœur du village. Il porte en son centre une grosse cicatrice. C'est un sujet brûlant depuis des années d'après les informations que j'ai recueillies et les conversations que j'ai eues avec certains d'entre vous qui sont ici depuis longtemps. Il y a des options sur la table, il y a des idées, des projets, et nous devrons faire des choix. Nous ne pouvons attendre indéfiniment.
Les finances : North Hatley peine à joindre les 2 bouts. Oui on peut couper, mais la question est comment pouvons-nous générer de nouveaux revenus?
Transparence et meilleure communication.
Redonner aux organismes communautaires la place qui leur revient. Je ne crois pas que ce soit le rôle de la municipalité de tout contrôler et organiser. Il y a North Hatley des organismes et des gens qui veulent s'impliquer. Il faut les supporter. 
Il y a plus, beaucoup plus, et j'aurai, au cours du prochain mois, d'autres opportunités pour m'exprimer sur ces sujets.
J'ai des idées, mais je veux aussi entendre les vôtres, car être conseiller, c'est vous représenter. Au cours des prochaines semaines, j'aurai la chance de parler avec plusieurs d'entre vous pour discuter de VOS besoins, préoccupations et priorités.
Au plaisir de vous parler et de servir North Hatley et ces citoyens.
Questions ou commentaires, vous pouvez m'écrire Michel.Desrosiers@me.com.
_______________________
Michel Desrosiers – Running for Councillor – Seat no. 1
Let me introduce myself.
I am Michel Desrosiers. I have been, along with my wife Helena, a resident of North Hatley for two years now. We live at 460 Chemin de la rivière. I personally have known North Hatley since 1998. It was love at first sight.
I have a background in civil engineering and physical activity. I have been a Project Manager and Consultant for over twenty years. This work has taken me to travel all over the world, to meet and work with many people and work teams, to develop management skills and to work to find constructive and inclusive solutions to complex problems.
I am bilingual, something that I consider important to properly represent the citizens of a village that is also bilingual.
I have been interested in municipal politics for a few years already. First in Montreal where I've attended as many city councils as I could, then here in North Hatley. In this regard. I have attended almost all the North Hatley council meetings since we arrived in 2019. My objective was to understand the dynamics of the village, to inform myself, understand the key issues we are facing, think about what could be done and of course to ask questions to the council, to exchange with its members, and to meet some of you.
As a citizen, I consider that being a councillor will allow me to contribute to keep what we love about our village, but also contribute to its future.
My priorities and views:
The environment: we live in a unique village, located by a lake and a river. Protecting your environment is essential. I wrote 2 articles last winter on FANHCA to question the overuse of de-icing salts and abrasive products on our roads. These are pollutants and they also reduce the life of our infrastructure. This intervention, combined with interventions at the municipal council, had the impact that next winter, the municipality will conduct a pilot project aimed at reducing the use of de-icing products on flat road surfaces. In addition, the village has made a request to the MTQ to establish an Ecoroute on the 108. I would like to thank the municipality for this. I also participated to the effort to reduce the speed and trucks on Capelton (more work will be needed) because the environment is also a matter of peace for citizens. I also believe that there are other actions we can assess and take to protect our unique environment. (Links to the two articles are here and here)
The heart of the village: We all know that we need to do something to revitalize the heart of the village. Our Village has a large scar in its center. It has been a hot topic for years based on the information I have gathered and the conversations I have had with some of you who have been here for a long time. There are options on the table, there are ideas, projects, and we will need to make choices. We cannot wait forever.
Financial: North Hatley is struggling to make ends meet. Yes, we can make cuts, but the question is how do we generate new income?
Transparency and better communication.
The Community organizations: I do not believe it is the role of the municipality to control and organize everything. There are North Hatley organizations and people who want to get involved we need to support them.
There is more, much more, and I will have more opportunities to speak on these topics over the next month.
I have ideas and I also want to hear about yours as being a councillor means representing you. Over the next few weeks, I will have the chance to speak with many of you to discuss YOUR needs, concerns, and priorities
Looking forward to talking to you and serving North Hatley
Questions or comments, you can write to me at Michel.Desrosiers@me.com