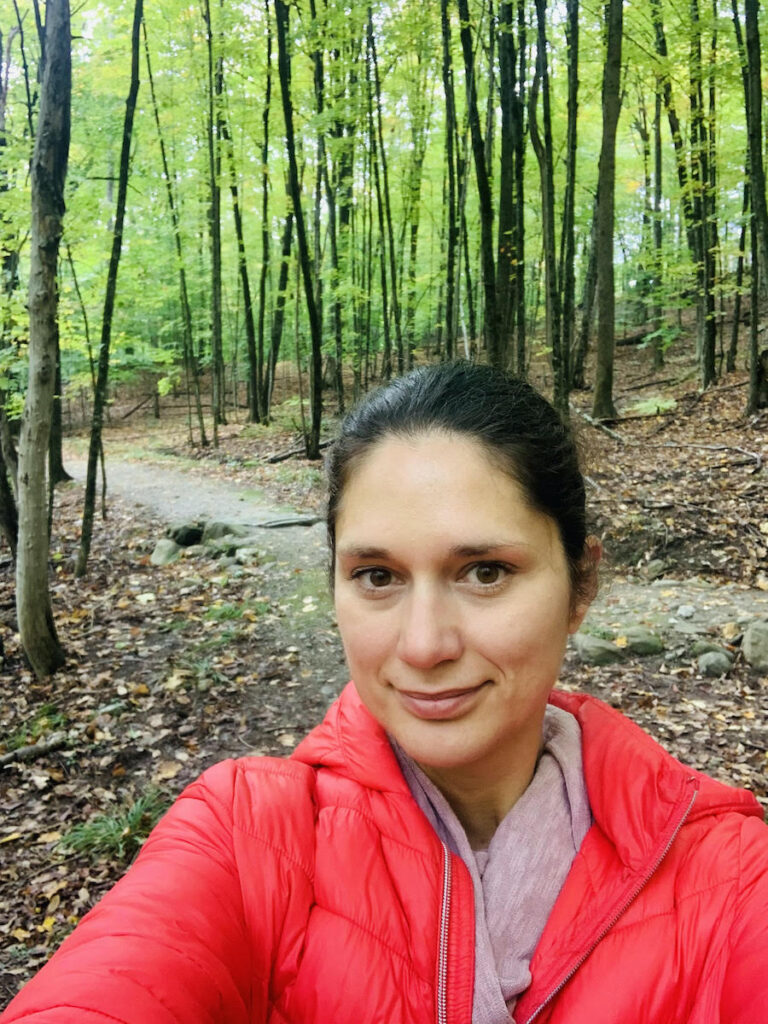 (Version française ci-bas)
Sophie Brasiola, Candidate for Councillor, seat #3
From the city to the countryside
In 2015, when the moving truck stopped on McKay street, I had no idea what the future looked like for my husband, my 2 kids and myself. We decided to move from the Montreal Suburb and start a new life…destiny brought us here, in North Hatley.
The urban life was good when we were younger. I've graduated with a Bachelor's of Commerce from Concordia University and work over 15 years in the fields of business, marketing and communication. But I knew at a young age that I wanted to anchor myself in nature.
Today, my family and I are established in this beautiful paradise that is North Hatley. I work for a worldwide reputable company established in the region. My husband is a firefighter in North Hatley and it's here that we chose to raise our family.
Our story is far from being unique, I meet with families like us regularly in the village. And that's my main motivation for running as Councillor today.
My motivations
I have a deep connection to North Hatley, where we have made our best family memories.
I have a profound respect for North Hatley's history and origins. I speak often to people born and raised in this village and I share their desire to preserve North Hatley's uniqueness for future generations.
I'm concerned with today's challenges, mainly protecting the environment and our resources, responsible urban and economic development, and reignite a community that is engaged and active.
I want to get involved, and make a difference.
My strengths to contribute
Communication: communication should be open, transparent, and inclusive, leveraging today's tools and platforms in order to keep the community informed and entice constructive debate.
Relationship: I know how to develop strong relationships with the community, commerce, organizations and unify everyone's strengths and expertise to overcome the challenges we have in front of us.
Rigor: no ambition is possible without rigor and our ways of working. With my professional experience, I know how to structure projects and deliver them. Managing budgets and measuring efficiency is something that we definitely need for this village.
If you have questions, or feedback, please do not hesitate to communicate with me sobrasiola@gmail.com
Hope to meet you soon.
Kind Regards, Sophie Brasiola
_________________
Sophie Brasiola, candidate au poste de conseillère, siège n. 3.
De la grande ville à la campagne
En 2015, lorsque le camion de déménagement s'est arrêté sur la rue McKay, je n'avais aucune idée de ce qui nous attendait; mon conjoint, moi et nos deux enfants. Nous avions décidé de quitter la banlieue de Montréal pour refaire notre vie, à notre façon et le destin nous a dirigé ici à North Hatley.
La ville nous avait plu étant jeune. J'y ai fait mes études; un BAC en Commerce de l'Université Concordia et plus de 15 années à œuvrer dans le domaine des affaires, du marketing et des communications. Mais très tôt j'ai su que j'avais besoin de la nature pour m'ancrer.
Aujourd'hui, nous sommes fièrement établis dans ce beau coin de paradis qu'est North Hatley. Je suis à l'emploi d'une entreprise de renommée mondiale établie dans la région, mon conjoint est pompier volontaire pour le village de North Hatley et c'est ici que notre famille grandit.
Notre histoire est loin d'être unique, des familles comme nous, j'en croise régulièrement dans notre village. Et c'est ce qui me motive à m'impliquer pour notre village. 
Mes motivations
Parce que j'ai un attachement envers le village de North Hatley, c'est ici que nous créons nos plus beaux souvenirs avec notre famille.
J'aime son histoire, ses origines. Je parle régulièrement aux gens qui sont nés ici et qui y vivent depuis longtemps. Je veux préserver notre patrimoine, l'essence de North Hatley pour notre génération et celles à venir.
Les enjeux d'aujourd'hui me touchent particulièrement; l'environnement et la protection de nos ressources, les projets de développement urbain et économique plus responsable et raviver une communauté active et engagée.
C'est en m'impliquant que je veux faire une différence pour notre communauté.
Mes forces à contribution
La communication: je prône une communication ouverte, transparente, inclusive et en utilisant des outils actuels afin de garder la population informée et active dans les débats.
Les relations: que ce soit avec les citoyens, les commerçants, ou les organismes, je saurai développer des relations qui nous permettront d'unir les forces et les expertises de chacun afin d'innover pour contrer nos enjeux.
La rigueur: aucune ambition n'est possible sans rigueur dans nos façons de faire. Oeuvrant dans le milieu des affaires depuis 15 ans, je sais structurer et mener des projets à terme, gérer des budgets et en évaluer leur rentabilité. Nos finances en ont grandement besoin!
N'hésitez pas à communiquer avec moi pour toute question ou commentaire au sobrasiola@gmail.com
Au plaisir de vous rencontrer prochainement!
Sophie Brasiola