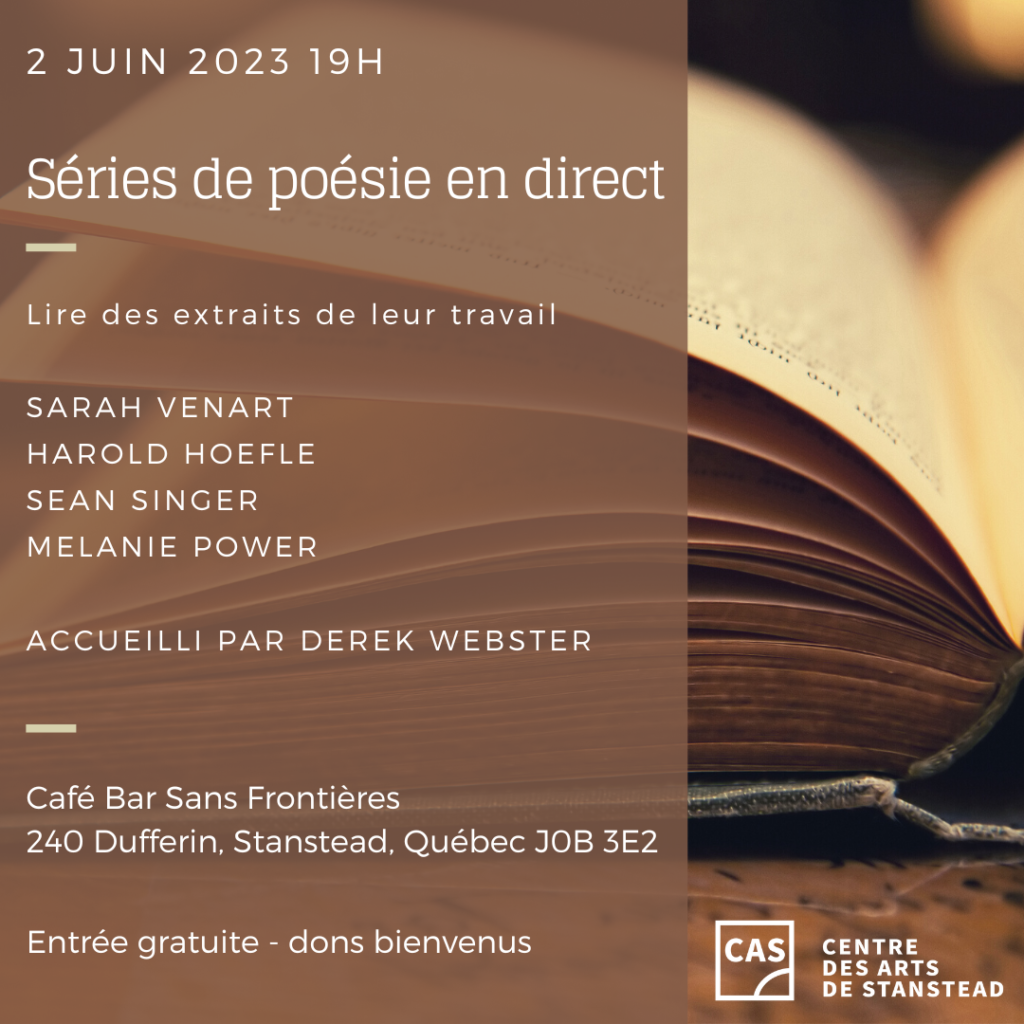 Nous sommes heureux d'annoncer que nous lançons notre série de poésie en direct cet été. Notre premier événement aura lieu le 2 juin à 19 h au Café Bar sans Frontière, 240 Dufferin, Stanstead. Les sujets abordés pourraient inclure les taxis, le thé fort, l'éducation des enfants et le gâteau glacé Deep-N-Delicious de McCain. Vendredi 2 juin, 19 h, 240, rue Dufferin, Stanstead (Québec). Animé par Derek Webster pour le Centre des Arts de Stanstead/Stanstead Arts Centre. Vos poètes : Sean Singer est l'auteur de Discography (Yale University Press, 2002), lauréat du Yale Series of Younger Poets Prize, sélectionné par W.S. Merwin, et du Norma Farber First Book Award de la Poetry Society of America ; Honey & Smoke (Eyewear Publishing, 2015) ; et Today in the Taxi (Tupelo Press, 2022), qui a remporté le 2022 National Jewish Book Award. Il propose un service de consultation de manuscrits à l'adresse www.seansingerpoetry.com. Sarah Venart est l'auteur de I am the Big Heart, lauréat du prix AM Klein 2021 et sélectionné pour le prix Relit. Ses poèmes ont été publiés au Canada, aux États-Unis et au Royaume-Uni. Elle vit à Montréal et enseigne au John Abbott College. www.sarahvenart.com Le premier recueil de Harold Hoefle, The Night Chorus, a été publié par McGill-Queen's University Press en 2018. Il enseigne l'anglais et la création littéraire au Collège John Abbott à Ste-Anne-de-Bellevue, au Québec. www.mqup.ca/night-chorus–the-products-9780773554924.php Melanie Power est une écrivaine montréalaise originaire de St. John's, Terre-Neuve, et l'auteure de Full Moon of Afraid and Craving, publié par McGill-Queen's University Press en 2022. Elle poursuit actuellement un doctorat en sciences humaines interdisciplinaires à l'Université Concordia. www.melaniedpower.com Derek Webster (hôte) est l'auteur de Mockingbird (Signal), finaliste du prix Gerald Lampert 2016 pour le meilleur début en poésie. Son deuxième recueil National Animal paraîtra au printemps 2024. https://www.vehiculepress.com/q.php?EAN=9781550654264 Événement gratuit. Livres en vente sur place. Pour en savoir plus sur le Centre des arts de Stanstead : https://centredesartsdestanstead.com/
Poetry in Stanstead
Friday, June 2, 7 pm
240 Rue Dufferin, Stanstead, Quebec
If you are in the Eastern Townships/Sherbrooke/Northern Vermont area next weekend, come out to Stanstead for a scintillating evening of poetry in the former Eastern Townships Bank (now the Café Bar Sans Frontieres). Subjects may include taxis, strong tea, childrearing, and McCain Deep-N-Delicious Frozen Cake. Friday, June 2, 7 pm, 240 Rue Dufferin, Stanstead, Quebec. Hosted by Derek Webster for the Stanstead Arts Centre/Centre des Arts de Stanstead.
Your Poets: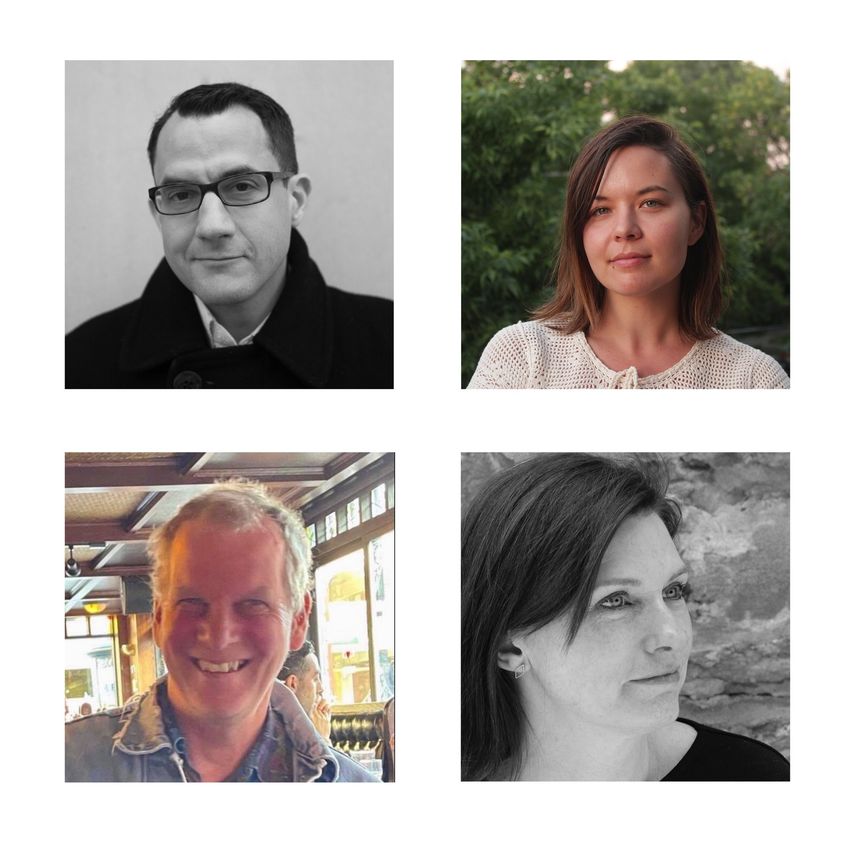 Sean Singer is the author of Discography (Yale University Press, 2002), winner of the Yale Series of Younger Poets Prize, selected by W.S. Merwin, and the Norma Farber First Book Award from the Poetry Society of America; Honey & Smoke (Eyewear Publishing, 2015); and Today in the Taxi (Tupelo Press, 2022) which won the 2022 National Jewish Book award. He runs a manuscript consultation service at www.seansingerpoetry.com
Sarah Venart is the author of I am the Big Heart, winner of the 2021 AM Klein Award and listed for the Relit Award. Her poems have been published in Canada, the US, and the UK. She lives in Montreal and teaches at John Abbott College. www.sarahvenart.com
Harold Hoefle's debut collection The Night Chorus was published by McGill-Queen's University Press in 2018. He teaches English and Creative Writing at John Abbott College in Ste-Anne-de-Bellevue, Quebec. http://www.mqup.ca/night-chorus–the-products…
Melanie Power is a Montreal-based writer from St. John's, Newfoundland, and the author of Full Moon of Afraid and Craving, published by McGill-Queen's University Press in 2022. She is currently pursuing a PhD in Interdisciplinary Humanities at Concordia University. www.melaniedpower.com
Derek Webster (host) is the author of Mockingbird (Signal), finalist for the 2016 Gerald Lampert Award for best poetry debut. His second collection National Animal appears in Spring 2024. https://www.vehiculepress.com/q.php?EAN=9781550654264
Event free. Books for sale on site.
For more on the Stanstead Arts Centre: https://centredesartsdestanstead.com/