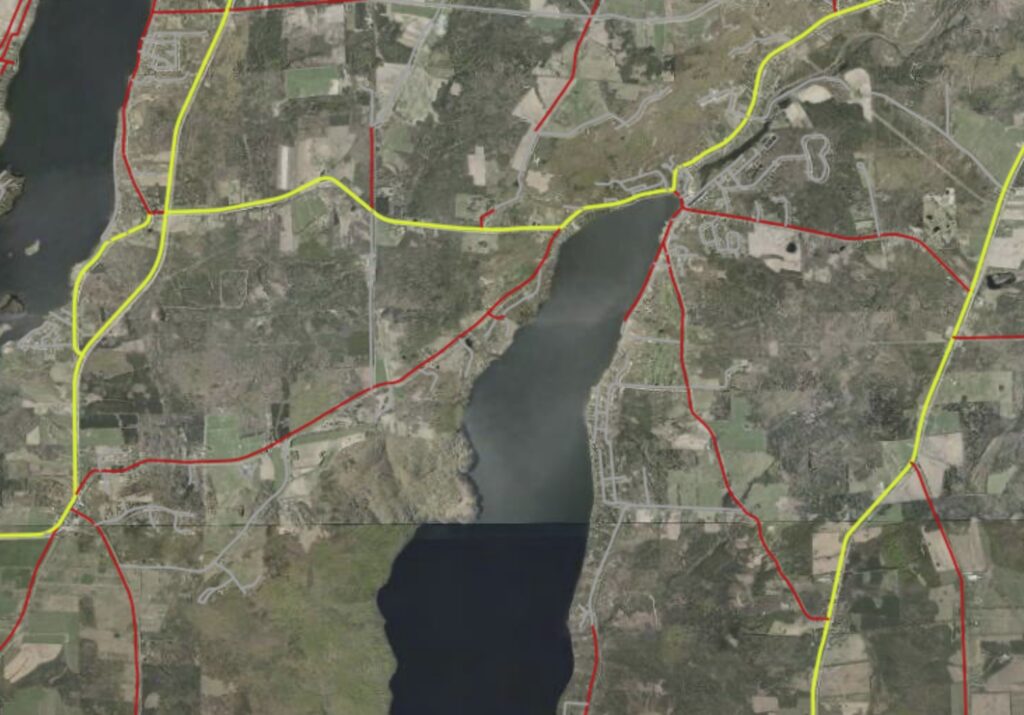 (English follows)
Chers résidents de North Hatley et particulièrement propriétaires le long de la route 108 (chemin Capelton et chemin Magog) : Dans notre village, le fardeau des gros camions conduisant trop vite et freinant avec leurs moteur s'accroît. Avec la modification du chemin Magog entre le chemin Hovey et le chemin de la Université (voir notre article précédent), il semblerait que le ministère des Transports continuera à tolérer la circulation des gros camions dans notre village. Ajoutez à cela le fait que la descente sur le chemin Magog entre le chemin Virgin et le chemin Capelton encourage la vitesse ainsi que le fait que le village a supprimé le signal d'avertissement de vitesse marginalement efficace sur cette pente et nous avons une situation intenable.
La lettre suivante du ministère des Transports offre une option pour signaler les abus des camions sur cette route. Une autre option est la formation d'une pétition des citoyens vivant le long de la route 108 qui est adressée à nos administrations municipales (soit Village de North Hatley ou Canton de Hatley) qui, selon une correspondance précédente, sont obligées de faire part de nos préoccupations au ministère des Les transports.
FANHCA vous encourage à être actif et à aller de l'avant pour contribuer à cette cause. Veuillez partager ceci avec vos voisins sur la route 108 et aidez-nous à lancer cette pétition avant la fin du mois de mai. Veuillez communiquer avec nous à fanhcaowner@gmail.com . FANHCA ne peut pas faire ça sans votre aide.
Merci! – L'EQUIPE FANHCA
« La route 108 à North Hatley et la route 143 au Canton de Hatley sont sous la juridiction du ministère des Transports. La circulation des camions sur celles-ci est permise, mais ces routes sont classées « restreinte ». Cette classe signifie que les caractéristiques de la route rendent la conduite des camions lourds plus difficile, par exemple en raison de l'étroitesse de la route ou de la présence de pentes et de courbes. De par sa mission, le ministère des Transports se doit d'assurer l'accès à un réseau routier permettant la libre circulation des marchandises et le développement des activités économiques, tout en tenant compte de la sécurité du public. D'ailleurs, la route 108 est classée comme une route collectrice de transit et fait partie du réseau de camionnage qui vise à diriger les véhicules lourds sur le réseau routier le plus approprié.
« Puisque le Réseau cyclable des Grandes-Fourches, qui fait partie du circuit de la Route verte, se trouve en partie sur la route 108, il y a effectivement une cohabitation entre les conducteurs de véhicules (autos/camions) et les cyclistes à cet endroit. Les panneaux de signalisation indiquant la présence de la piste cyclable ainsi que la vitesse affichée à 50 km/h contribuent à favoriser un partage de la route sécuritaire.
« Toutefois, la rue Main et le chemin Sherbrooke, qui sont de juridiction municipale, sont interdits à la circulation lourde à l'exception de la livraison locale, en vertu d'un règlement municipal. Le camionnage dit de transit, qui ne fait que passer sans s'arrêter, est donc interdit. Ce sont uniquement les autorités policières et les représentants de Contrôle routier Québec qui ont le pouvoir de faire respecter la signalisation. Si vous remarquerez que des camionneurs contreviennent à la réglementation, que ce soit sur le réseau supérieur ou municipal, le Ministère vous invite à formuler un signalement auprès de Contrôle routier Québec en remplissant le formulaire à l'adresse suivante : » (accent par fanhca)
https://saaq.gouv.qc.ca/controle-routier-quebec/signalement/
Caroline Gagnon, Coordonnatrice sectorielle à la gestion des plaintes et réclamation, Direction générale de l'Estrie, Ministère des Transports
_________________
Dear residents of North Hatley and especially property owners along Route 108 (Chemin Capelton and Chemin Magog) : In our village, the burden of large, engine-braking, speeding trucks is increasing. With the modification of Chemin Magog between Chemin Hovey to Chemin de la Université (please see our previous post), it would seem that the Ministère des Transports will continue to condone traffic by large trucks through our village. Add to that the fact that the downhill slope on Chemin Magog between Chemin Virgin and Chemin Capelton encourages speeding as well as the fact that the village has removed the marginally effective speed warning signal on that slope and we have an untenable situation.
The following letter from the Ministère des Transports offers one option to report abuses by trucks on that route. Another option is the formation of a petition from citizens living along Route 108 that is directed to our municipal administrations (either Village of North Hatley or Canton de Hatley) who, according to previous correspondence, are obliged to take up our concerns with the Ministère des Transports.
FANHCA encourages you to be active and step forward to help with this cause. Please share this with your neighbours on Route 108 and help us get that petition going before the end of May. Please communicate with us at fanhcaowner@gmail.com . FANHCA cannot take this on without your help.
Thank you! – TEAM FANHCA
"Route 108 in North Hatley and route 143 in Canton de Hatley are under the jurisdiction of the Ministère des Transports. Truck traffic on these roads is permitted, but these roads are classified as "restricted". This class means that the characteristics of the road make it more difficult to drive heavy trucks, for example due to the narrowness of the road or the presence of slopes and curves. By virtue of its mission, the Ministry of Transport must ensure access to a road network allowing the free movement of goods and the development of economic activities, while taking into account the safety of the public. Moreover, Route 108 is classified as a transit collector road and is part of the trucking network which aims to direct heavy vehicles on the most appropriate road network.
"Since the Grandes-Fourches cycling network, which is part of the Route verte circuit, is partly located on route 108, there is indeed a cohabitation between vehicle drivers (cars / trucks) and cyclists at this location. Signs indicating the presence of the cycle path as well as the posted speed of 50 km/h help to promote safe sharing of the road.
However, Main Street and Sherbrooke Road, which are under municipal jurisdiction, are prohibited for heavy traffic except for local delivery, under municipal bylaw. So-called transit trucking, which only passes without stopping, is therefore prohibited. It is only the police authorities and the representatives of Contrôle routier Québec who have the power to enforce the signage. If you notice that truckers are violating the regulations, whether on the higher or municipal network, the Ministère invites you to file a report with Contrôle routier Québec by filling out the form at the following address:" (emphasis by fanhca)
https://saaq.gouv.qc.ca/controle-routier-quebec/signalement/
Caroline Gagnon, Coordonnatrice sectorielle à la gestion des plaintes et réclamations, Direction générale de l'Estrie, Ministère des Transports