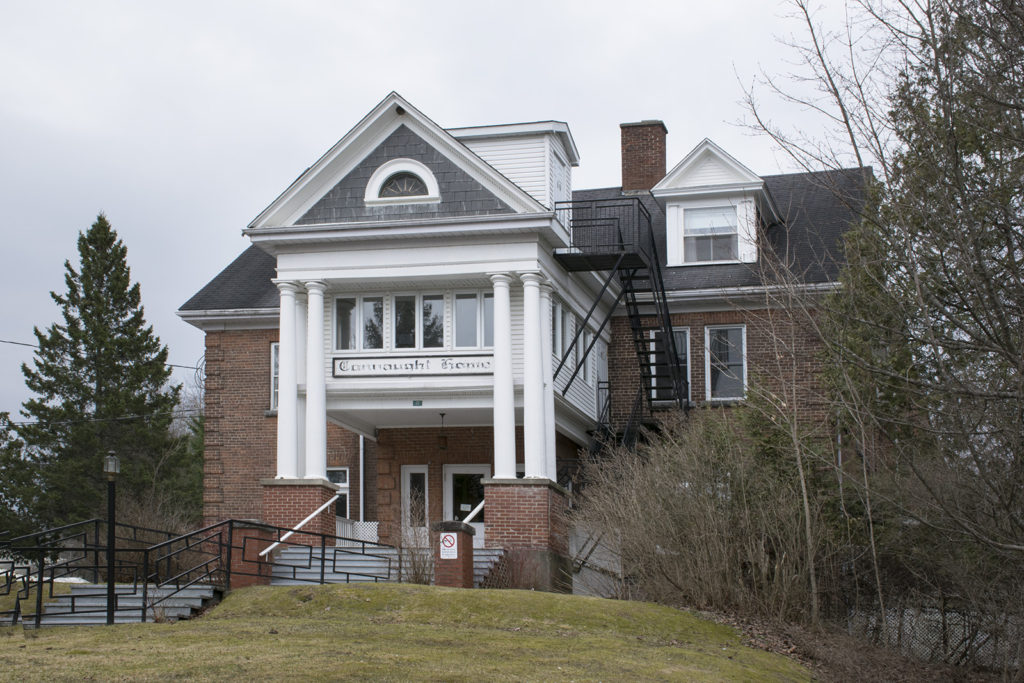 AVIS PUBLIC / PUBLIC NOTICE
(English follows)
PROJET DE DÉMOLITION PARTIELLE ET DE TRANSFORMATION – 77, RUE MAIN
AVIS EST PAR LA PRÉSENTE DONNÉ DE LA TENUE D'UNE ASSEMBLÉE DE CONSULTATION, LE 1er MAI 2019, À 19 H 00, AU CENTRE COMMUNAUTAIRE DE NORTH HATLEY, 3127, CHEMIN CAPELTON
La Municipalité a reçu un préavis le 15 octobre 2018 pour la demande de travaux de démolition partielle et de transformation au 77, rue Main, tel que prévu à l'article 139 de la Loi sur le patrimoine culturel.
En vertu de l'article 145.18 de la Loi sur l'aménagement et l'urbanisme, le conseil municipal peut décréter que les plans produits sont soumis à une consultation publique selon les articles 125 à 127 qui s'appliquent compte tenu des adaptations nécessaires.
La Politique d'information et de consultation publique, adoptée le 4 février 2013, présente les principes de transparence, d'engagement et d'intérêt public à l'égard de tout projet pour le soumettre à une consultation citoyenne si le conseil municipal estime opportun ou nécessaire de le faire.
Suite à la séance d'information publique tenue le 16 avril 2019, au centre communautaire de North Hatley, sous la présidence de M. Michael Page, maire de North Hatley, le conseil municipal sera l'hôte d'une assemblée de consultation.
Cette assemblée de consultation permettra au conseil municipal de recevoir les commentaires de la population.
Le conseil municipal sera disposé à recevoir vos commentaires selon les questions suivantes :
Est-ce que le projet de démolition partielle est acceptable dans la perspective du projet de transformation soumis ?
Le projet de transformation déposé présente-t-il une intégration adéquate dans le contexte du noyau villageois et du site du patrimoine ?
Les personnes et organismes sont également invités à déposer leur mémoires, commentaires ou opinions par écrit au bureau de la municipalité, situé au 3125, chemin Capelton ou par courriel à inspection@northhatley.org au plus tard le 1er mai 2019.
Le conseil municipal rendra un rapport à compter du 2 mai 2019, qui fera état des résultats de la consultation publique. Ce rapport sera disponible au bureau de la municipalité et sur le site Internet de la Municipalité : http://www.northhatley.org/.
Les documents présentés lors de la séance d'information publique du 16 avril 2019 sont disponibles sur le site Internet de la Municipalité en consultant le lien cité ci-haut.
Les documents d'information sont disponibles pour consultation au bureau de la Municipalité.
DONNÉ À NORTH HATLEY CE 17 AVRIL 2019.
Daniel Décary
Directeur général et secrétaire-trésorier
***
PARTIAL DEMOLITION AND CONVERSION PROJECT – 77, RUE MAIN
NOTICE IS HERBY GIVEN FOR AN CONSULTATION ASSEMBLY, MAY 1ST 2019 AT 7:00 PM, AT THE NORTH HATLEY COMMUNITY CENTER, 3127, CAPELTON ROAD
On October 15th 2018, the municipality received advance notice for an application for partial demolition and conversion work at 77 Main Street, as required by article 139 of the Law on Cultural Heritage.
Under article 145.18 of the Law on Land Use Planning and Development, the municipal council may require that the produced plans be submitted to a public consultation as per articles 125 to 127 which apply in light of the changes that are required.
The Policy on Information and Public Consultation, adopted on Febuary 4th 2013, presents the principles of transparency, engagement and public interest with regards to any project submitted to a citizen consultation, if the municipal council sees fit or deems it necessary to do so.
Following the public information session held on April 16th, 2019, at the North Hatley Community Center, chaired by Mr. Michael Page, Mayor of North Hatley, the municipal council will host a consultation assembly.
This consultation meeting will allow the municipal council to receive the comments of the population.
Municipal Council will be listening to your comments based on the following questions:
Is the partial demolition project acceptable in view of the transformation project submitted?
Is the submitted transformation project adequately integrated in the context of the village core and the heritage site?
Individuals and organizations are also invited to submit their written memoirs, comments or opinions to the municipal office at 3125, Capelton road or by email to inspection@northhatley.org at the latest of May 1ST, 2019.
Municipal Council will report back on May 2nd, 2019, which will report on the results of the public consultation. This report will be available at the municipal office and on the Municipality's website: http://www.northhatley.org/.
The documents presented during the public information session on April 16th 2019 are available on the Municipality's website by consulting the link mentioned above.
The information documents are available for consultation at the town hall.
NOTICE GIVEN IN NORTH HATLEY, APRIL 17TH 2019.
Daniel Décary
Director-General and Secretary-Treasurer